<< Previous | Story Intro | Return to Stories | Next >>
---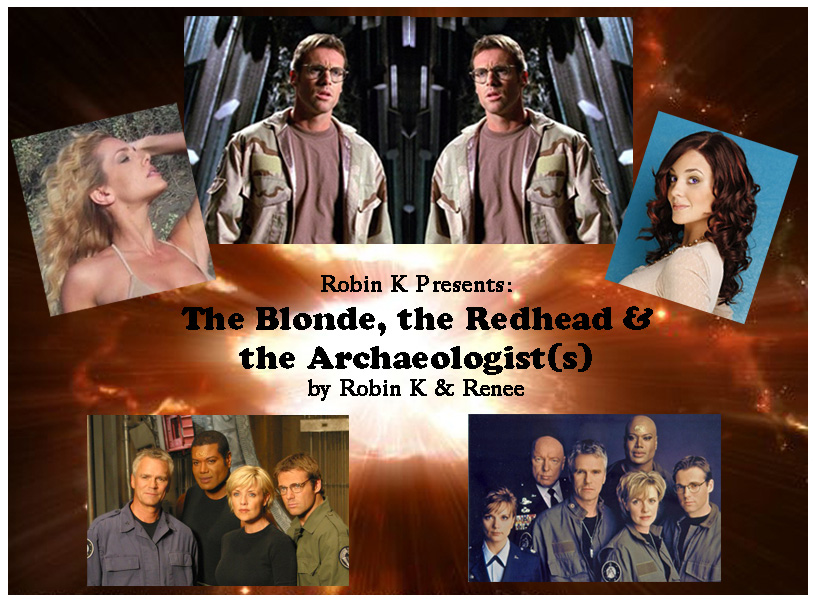 Disclaimer...

I don't own 'em. Not making any money off of them. All story ideas are original.

Summary...

A planned mission to explore Cardorian ruins goes awry when Daniel and Casey are pulled into an alternate universe. Daniel meets...himself...and his spitfire little wife, a redhead with a gift as special as Casey's, and a temper to rival the slender blonde's. Will the two women kill each other before they can find a way back to their own realities?

A/N...Chapter 10 is completely different than the Chapter 10 of Renee's version of the story.

Story Category: Action/Adventure, Humor

Characters...

Stargate SG-1…

Dr. Daniel Jackson
Gen. Jack O'Neill
Lt. Col Samantha Carter
Teal'c
Sha're
Skaara
Hathor (Goa'uld)



Highlander: The Series...

Duncan MacLeod
Methos
Tessa Noel


Original...

Casey Jackson
Emily Jackson
Nicholas Jackson
Ethan Jackson
Aaron DeSala (Ancient/Immortal)
Erin DeSala (Ancient/Immortal)



From Renee's Stargate SG-1 universe -

Special appearances by: Annika Jackson
Dr. Daniel Jackson
Colonel Jack O'Neill
Major Samantha Carter
Teal'c of Chulak
General George Hammond

Lyrics...

"Burn"
by Sister Machine Gun, Mortal Kombat Soundtrack

Rating...
No copyright infringement intended.
---
<< Previous | Story Intro | Return to Stories | Next >>